Where to Buy HTTPS Certificates Cheap
Last Updated:
Why Are You Recommending These?
This is the actual vendor I've used for over 10 years and they have been excellent. These are not affiliate links and I do not receive any compensation, kickbacks, etc.
What about free certificates?
You can absolutely use Let's Encrypt for a free certificate and there's another page where I explain that process. The two reasons for buying a certificate are:
The Let's Encrypt certificates are only valid for 3 months but the paid are for 1 year at a time. If you're not comfortable updating certificates or forget deadlines, the paid certificates may be worth it for less hassle.
The only way to get a "green bar" EV certificate is to pay.
Otherwise, free certificates may be the right choice for you!
What Vendor Should I Use?
For the most part, it does not matter on the security side. However, each vendor comes with a different "seal" graphic that may (or may not) affect your visitors' trust. Here's an (unverified) graphic showing survey results based on brand name and seal recognition.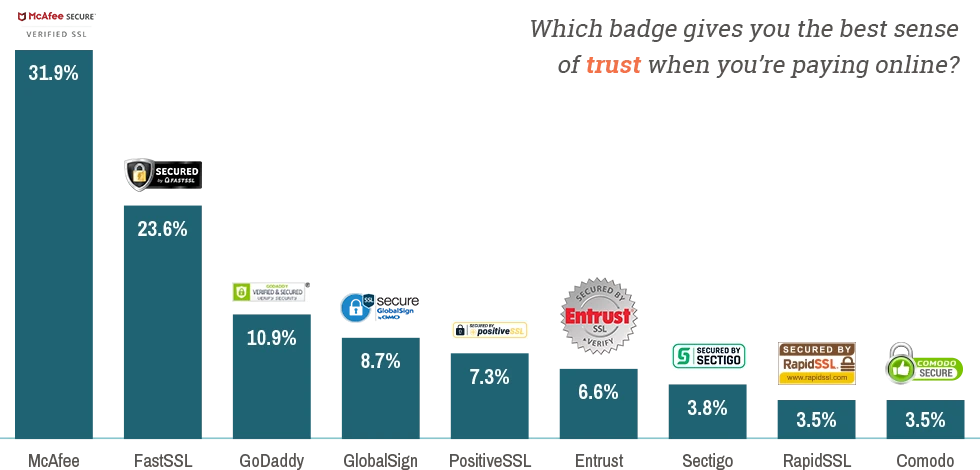 Important Note!
While you can buy certificates 5+ years at a time upfront, you will ONLY get a certificate valid for 1 YEAR. Later on, you'll need to exchange the first year certificate for the second year certificate, which is free. This continues for the term you purchase. In the past, it was possible to have one certificate valid for 5 years, but that is no longer the case and now you'll get 5 certificates each valid for 1 year. The reason for buying multiple years upfront is cost savings.
Get a Certificate
Note: These were the cheapest prices I saw at the time of writing, prices may be different.
Cheapest Options
All Options